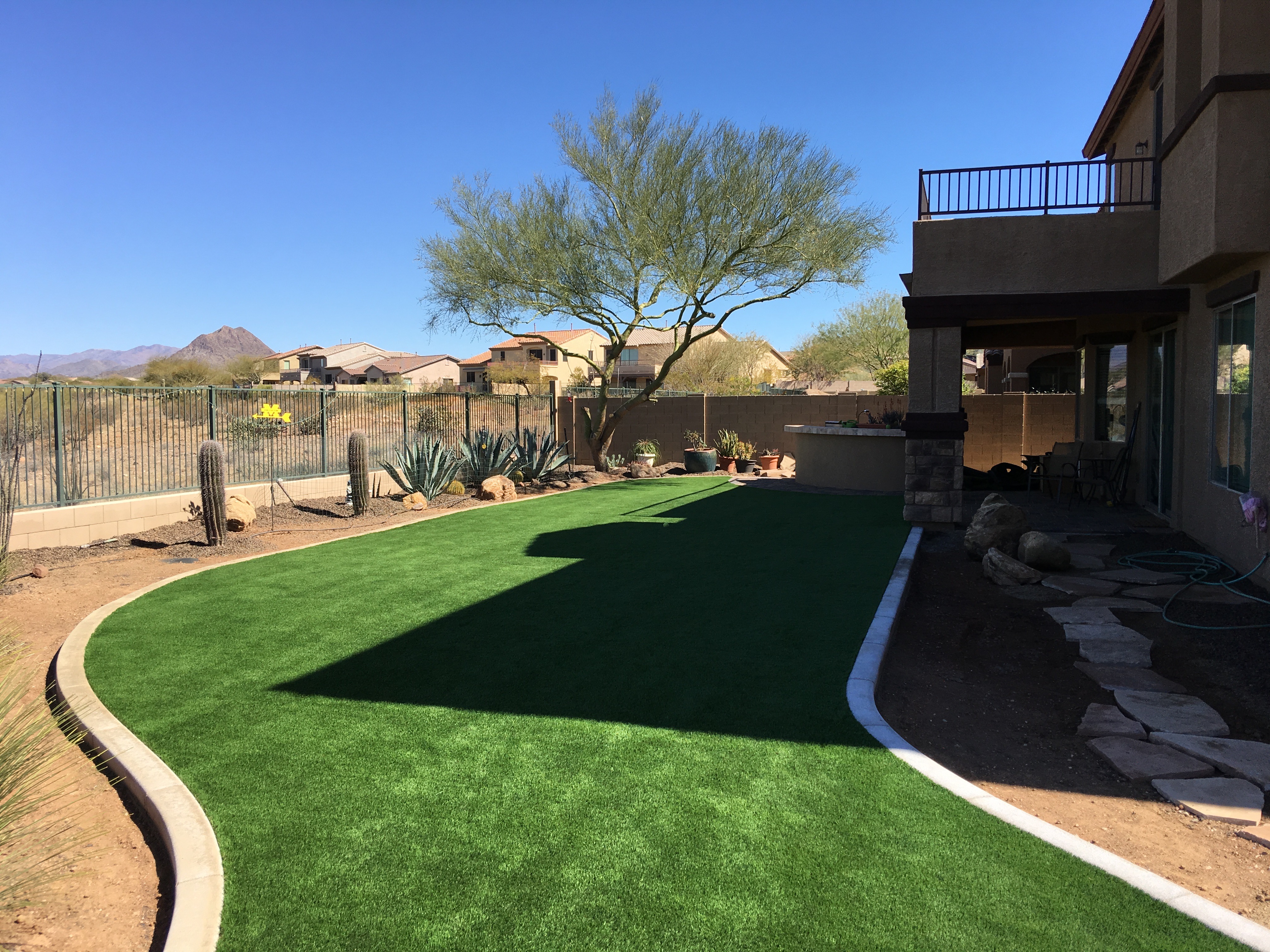 Artificial Turf & Synthetic Grass
Artificial Turf Installation Contractor Phoenix Metro Area
10 REASONS TO INSTALL ARTIFICIAL GRASS
Your Lawn Will Look Great ALL Year Long
Dog and Pet Friendly
Looks and Feels Like Real Grass
Environmentally Safe

Decreases Water Waste and Run-Off
Water Rebates (Check With Your City)
Increases Home Value
Ideal Pool Border and Edging

All of our Artificial Turf / Synthetic Grass Have Manufacture's 15 Year Warranty
 Did We Mention That DOGS LOVE ARTIFICIAL TURF!
We only carry the very finest Artificial Turf / Synthetic Grass.
The very latest in technology of Artificial Turf products, are designed to be more environmentally friendly, aesthetically appealing – the look of real grass, cooler, and MUCH LONGER LASTING, than turf from just a few years ago. Our Artificial Turfs  offer a minimum of a 15 year manufacture's warranty on materials. We also provide a 2 year installation warranty.
WE SPECIALIZE IN ARTIFICIAL TURF!
This statement goes beyond being a distributor, installer or franchise. It means we understand all aspects of SYNTHETIC GRASS, Astro-Turf, and other names Artificial Turf is known by. We have over 12 years of experience in all aspects of Artificial Turf.  Agave Turf and Landscape prides itself in being the very best in Artificial Turf sales and installation.

We are Artificial Turf PRO® Certified.
"Fair and Reasonable – Competitive Pricing, With Absolutely The BEST  Synthetic Turf Products, Quality of Installation, AND After Care"  You Have OUR Word On It! – Andy & Eva Avots – Owners and Operators.
We specialize in ALL Artificial Turfs and installations.  Architectural Turfs, Putting Greens, Sports Turfs, Play Ground Turfs, Dog Friendly Artificial Turfs and Child Friendly turfs and installations, Commercial and Industrial/Sports applications…..this is our expertise. But of course being in the landscape design and installation business, we also specialize in how Artificial Turf  looks, fits and works with existing plants and trees, within your yard's environment, as well as the harsh desert conditions. As a Horticulturist owned business, we know that is important. We ARE THE ONLY Horticulturist and Arborist owned Artificial Turf Company, Installer, AND Arizona ROC Contractor,  in the Phoenix Metro area. We understand what impact Artificial Turf has to the rest of your yard's environment!
We have hand selected over 30 different types of Artificial Turf from 6 top manufactures, to offer the "best in class" quality, warranty and installation possible. Our in-house installation crews are all Artificial Turf PRO® Certified. Above all, we can give you well rounded, expert advice, design and installation. We offer extremely competitive pricing on all our Artificial Turfs.
How does Artificial Turf blend with pavers, travertine, and other stone materials?  We can tell you how, and give you state of the art advice, design and installation.  Our design staff stays current with trends from California and the East Coast. We have close working relationships with our vendors and suppliers. We design and install ALL stone materials from pavers and travertine, to the very latest trends in outdoor ceramic tile, stack stone, and exotic stone materials.
Putting Greens – We also specialize in outstanding Artificial Turf Putting Greens. From a simple Putting Green for back yard fun and play, and enhancing your putting skills, to PRO level Putting Greens, offering extreme challenges for the skilled golfer. We are able to do every size, shape style to meet your needs and Putting Green desires.
Artificial Turf is our owner's passion, not a side business. We are the experts. Ask any of our customers, we would be more than pleased to give you a personal reference(s). AND Expert Project Management at Affordable Pricing.
Lastly, we absolutely believe "The Quality Of The Installation is Just As Important As The Quality Of The Artificial Turf Itself" The success to any project, is always in the detail….

Depending on where you live, you may qualify for rebates from your town or city for converting from grass to synthetic turf. Check our Rebates page for info on your town and who to contact for a rebate.
We DO NOT DEAL IN CLOSE OUT ARTIFICIAL TURF! Most all of these types of Artificial Turfs are years old in TECHNOLOGY. Many outlets and distributors are clearing their shelves of Artificial Turf that has been around for years. Many of these turfs are of outdated technology, and buying such is already putting you behind the "Technology Curve".  If you are making a long term investment, then talk to us and we will guide you through the latest and the greatest products from the six top manufactures of Artificial Turf. As we are not a "Franchise or a Distributor,"  we are not bound by this thought process. We offer the very best in American Made AND International Made, Artificial Turf, all of which are of THE HIGHEST QUALITY, and, provide THE VERY BEST WARRANTIES in the market.
Service Coverage Area
For all Landscape Installation, Landscape Renovation, Synthetic Turf and Xeriscape services we are happy to offer service to the following areas:
Anthem, AZ, New River, AZ,  Chandler, AZ, Gilbert, AZ,
Mesa, AZ, Scottsdale, AZ, Paradise Valley, Fountain Hills, AZ,
Tempe, AZ Avondale, AZ, El Mirage, AZ, Buckeye, AZ,
Cave Creek, AZ, Carefree, AZ, Queen Creek, AZ, San Tan Valley, AZ, Maricopa, AZ.
Ahwatukee, AZ, Goodyear, AZ, Laveen, AZ.
Glendale, AZ, Peoria, AZ, Sun City/Sun City West/Sun City Grand, Surprise, AZ, Wickenburg, AZ, Prescott AZ, Prescott Valley,
All of Metro Phoenix, AZ Area
Minimum job sizes may apply. Please Contact Us to find out if job size minimum applies to your particular installation.
Ready to find out more?
We're happy to draw up a free estimate for you. Just let us know what you're looking for!